Who We are
Are you facing challenge to balance the use of capital for your projects?
Have issues in project completion on time?
Dilemma in choosing the right company to work with?
Need people with the best skill set whom you can trust?
Need someone to help you define your requirements and help you change it as per the need?
" You are at the correct place.
Welcome to Novelucent "
Novelucent is a Product and IT services company serving clients across the globe - US/Canada, EMEA and APAC. We specialize in various facets of IT and have a solution for you irrespective of the size of your company or the market you cater to. We have the platter set for you with our front-end to back-end solutions. We help you to realize your vision for your projects. Our company is a rare synergy between creativity, knowledge, effort, proficiency and an excellent business acumen. A designed beauty of such a synergy is that it serves only to add, never subtract.With our more than 10 years of experience in various IT fields, we are certain about what we do and with our rational approach, we do not set for less than your complete satisfaction in realizing your vision for your project. We help guiding your project strategy and designing an appropriate solution to complex problems and deliver secure, high performance and scalable solution regardless of the platform.
Our Motto
"Goals could be abandoned, VISION not"
Our Mission
To be the best in providing innovative, prime, scalable, reliable and cost-effective IT solutions and services to small, SMB, large enterprises, governments and non-profit organizations with utmost dedication and honesty to improve their efficiency and business profitability. Do not hesitate to contact us or meet our team.
Our Agile Process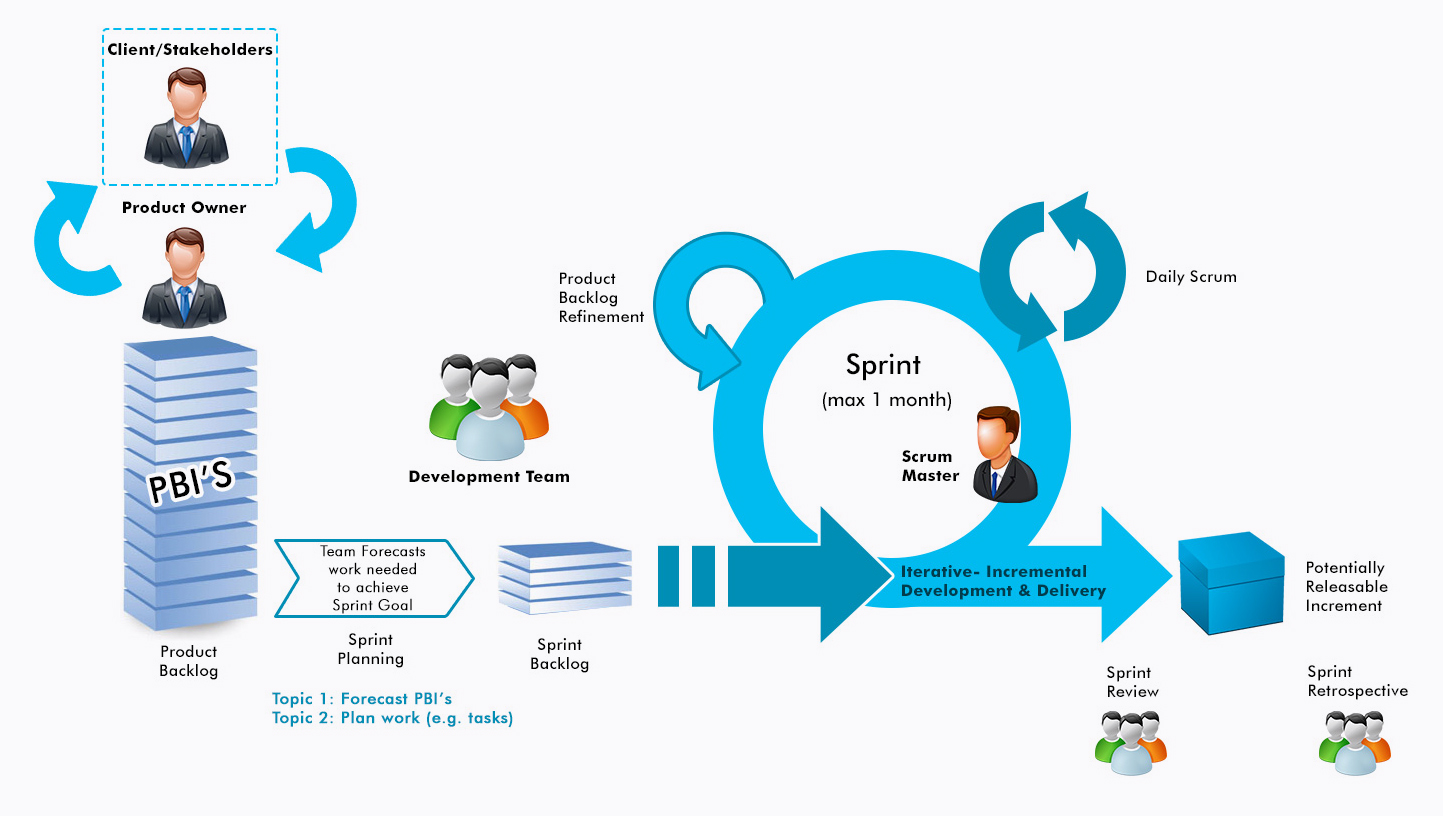 ---
Our Engagement Models:
Dedicated Team
We provide you a team of dedicated developers as per your project requirement. Our team works as a virtual extension of your in-house development team. The benefits you acheive through this model are knowledge retention and the flexibility of utilizing the team for different requirements. Monthly billing is done depending upon the number of resources dedicated every month.
---
Time and Material (T&M)
This model works best for agile project execution. You can opt for this model if you think that your requirements might change frequently. We assign the resources for your project and bill you on monthly basis as per the actual time spent by the team on the project.
---
Fixed Price (FP)
Fixed price model is ideal for small and medium level projects with clear and well-defined requirements. The scope and timeline is set prior to the start of the project. Any change in the scope results in a change in the price. In this model, you have the flexibility to pay in milestones.