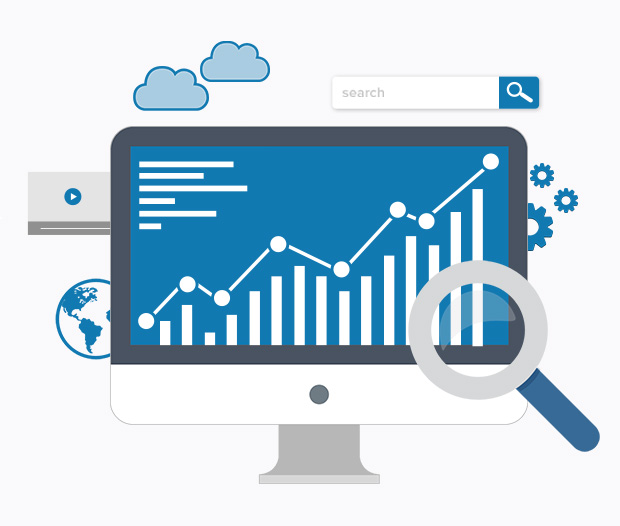 Search Engine Optimization
Search engine optimization (SEO) is a linchpin in any successful content marketing plan. Most of the consumers today carry smartphones/PDA's and prefer to look at websites on their hand held devices. Hence, the usage patterns for this group is different than that of desktop users: they're more likely to use voice search, access content at different times or in different locations than desktop users, and are looking for information to accomplish specific tasks while 'on the go'. Businesses that fail to tailor their website and content to these users will see their conversions plummet, and will experience a significant drop in search engine rankings. There is internal and external SEO. Internal makes up about 15% of the process (might be higher) and it means to design your site so it follows the best practices proven to rank high on Google. External SEO used to mean to write articles, press releases, blogs, comments, and content with embedded keyword "backlinks" to your site. Now it is changing fast to include social media strategies.
Here is What We Help You with:
Create a SEO strategy for your business
Leverage the owned, paid, and earned media to gain traction and thus, increase in ROI
Choose the right keywords and optimize content for the same
Leverage social media to boost SEO output
Use rich snippets to make your listing look enticing and engaging than the average listing in search results
Get a Quote
---
Check Out the Following SEO Checklist to Make Sure Your Content Marketing is Set Up for Success
Document Your SEO Strategy
If you follow CMI at all then you should know that documenting your content marketing strategy is imperative for success, and your SEO efforts should be a key part of that strategy. You may need to write a basic strategy first and then revisit it after analyzing your current SEO efforts and data. Content marketers who have a documented strategy are almost twice as likely to report that their content marketing is effective compared to the one without it.
---
SEO and Content Marketing - Both are Vital
No doubt that great content which is relevant and delivers value to your audience is needed for our marketing objectives, a vital part of our execution strategies should be focused on optimizations that will increase the probability that our content will be discovered via search. Hence, both - relevant content and SEO are important for a good conversion rate.
---
Audit Your SEO
As algorithms are rapidly changing, auditing your existing progress is imperative to enhance/improve your SEO. Re-evaluating your SEO and your strategies is one of the only ways to stay on top of these changes and continue to move your website content forward.
---
Use Owned, Paid, and Earned Media in SEO
There's no set "first page" of search results anymore and the keyword strategy of the past bears the brunt of impact from this change. An owned, paid, and earned content strategy has become a main focus for those trying to increase their rankings - primarily due to Google's frequent algorithm updates. To understand what's involved in an owned, paid, and earned strategy, it is important to understand semantic search. Semantic search is how search engines discern context and user intent to return more definitive answers, rather than the hierarchical list of guesses Google presented previously. Simply, semantic search helps Google present better results for any given search. Using them in tandem should be a top priority for successful content marketing.
The owned media is the one owned by you. For instance, your content, website, published information, anything you've created in the past that tells a story your customer wants to read.
Paid media includes PPC campaigns, local newspaper website, native advertising etc.
The earned strategy is publicity gained through editorial influence. For instance, coverage in an industry magazine article, gaining shares, likes, re-tweets, posts etc. It provides Google with an opportunity to understand if your content is important and, in return, helps to move that content up higher in relevant search engine results pages (SERPs). Online earned media has taken the place of the "word-of-mouth" advertising we all coveted.
---
Consider The "4 Vs" of Semantic Search
As you develop your owned, paid, and earned strategy, it becomes crucial to know how you are already using your content within each of the owned, paid and earned media areas. This is where semantic search and its four Vs come into picture. Semantic search is how search engines discern context and user intent to return more definitive answers, rather than the hierarchical list of guesses Google presented previously. Simply, semantic search helps Google present better results for any given search. Google Semantic Search, stresses that the four Vs that govern big data also govern what you do with your SEO and content marketing strategies. Volume, velocity, variety, and veracity are all important to your content strategy and how you promote your content:
Volume is the amount of content you present to your customers. it helps Google understand more about your company.
Velocity covers the speed at which you move your content. The quicker you give Google information, the quicker it can index your content and provide your content to your customer.
Variety tells Google that you really care about the quality of content and it's presentation for your intended audience. Using a combination of blogs, eBooks, videos, social posts, and other tactics gives you an advantage to get in front of your customers - no matter where they are online.
Veracity is how your content is perceived, and why Google should present your content to searchers. Creating new, relevant and valuable content helps your business put forth its point of view and, in turn, lends authentic value to your content - Value that Google will pick up on.
Taking a look at how each of the four Vs are incorporated into your owned, paid, and earned content strategy is important to gaining traction in a semantic search world.
---
Choose the Right Keyword
Even though search is becoming more context-driven, choosing the right keywords and using them in an optimized way is still important. Leverage the keyword research tools available to check whether people are actually using the keyword phrase you're targeting. But any new content can be a good opportunity to include your most strategic set of keyword phrases and cross-link them with your existing content. Add keywords where it makes sense, but don't focus on achieving a certain density percentage. When it comes to keywords, less can be more. Small businesses may have a harder time gaining traction with high-volume keywords because of competition. To overcome this, focus on long-tail keywords (keyword phrases with three or more words) that still have a respectable search volume.
---
Optimize Your Content
Once you've identified your target keywords, you have to be sure that your content is optimized for them. SEO is all about making your content attractive to search engines. This could be accomplished by selecting the right keyword - the word or phrase that people would be most likely to enter into a search engine if they were looking for your content - and then using it throughout what you write. You would have taken care in choosing the ones that has the greatest chances of ranking well for. It's much easier to create content with a keyword in mind than trying to retrofit it into something you've already crafted. Some of the things to keep in mind when incorporating a keyword are to include it in:
The title of your content
The first sentence of your first paragraph
At least one heading within the content
The page's URL
The page's Meta description
The alternate text field of any images you've included
---
Use Social Media to Boost Your SEO Campaign
Remember, content is the reason search began in the first place. Therefore, providing relevant and valuable content to customers is of utmost importance. To succeed in the world of semantic search, your social media and SEO efforts must complement each other. SEO can deliver content-rich answers to customers, and social media can provide the means to connect and engage with them. Optimized and socialized online content is essential for reaching information-hungry, multi-tasking audiences that are bombarded with new messages every day. For brands to be prominent on the search and social web for their customers, they'll need to understand the best of each discipline and how to put them together. With certain social media strategies, you'll be able to improve your brand awareness through social channels and simultaneously increase your domain authority, which will get you to rank higher for user searches of all varieties.
---
Leverage Outside Sites SEO Power
Inbound links from earned, paid, and owned media are a huge part of SEO success. Gain quality back-links by reaching out to influencers and bloggers, putting together an email campaign, guest writing (articles and blogs). It's a great way to share knowledge, gain exposure, and earn a link back. Take advantage of SlideShare. It is built to be extremely search-friendly, which makes content posted on the site likely to rank highly on Google. As presentations posted on SlideShare are automatically transcribed into text, search engines can surface relevant content more easily, than, say, slides that are posted on your own website with no transcription.
---
Use Rich Snippets
Rich snippets are a way to mark up your content that will allow search engines to enhance their results listings displays and make your website stand out. There are several different kinds of rich snippets that you can use, all of which will make your listing look more enticing and engaging than the average listing on the page; a few examples are video previews, images, and ratings. This data makes content more appealing to search engines, and, when it shows up alongside search listings, can help get more clicks from searchers.
---
Inspire Your Employees for Expanding SEO Power
Put emphasis on involving employees in SEO. Encourage employees to join in your SEO efforts. Provide them the training for the same. Employees have ideas, networks, and personal blogs that, with minimal effort, can be used as a tool to help the company build links. This would not only help your busniness but also help them in increasing their skill set.
---
Measure Your Success
Measurement and tracking against benchmarks and goals is necessary in proving content marketing ROI. There are a multitude of tools available to measure the effectiveness of your content.E.g. Google analytics.