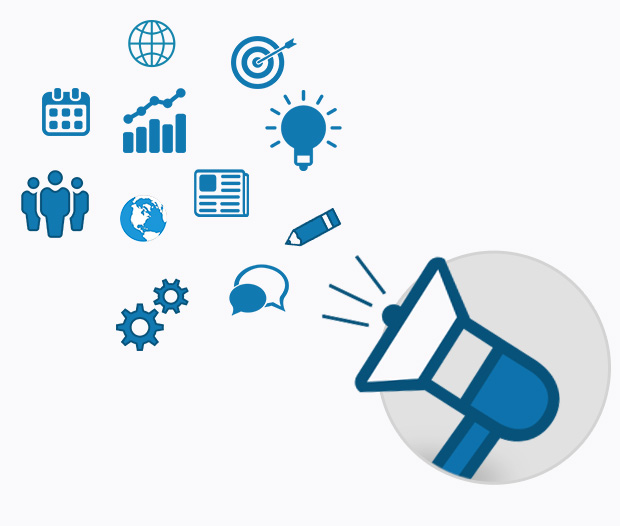 Online Public Relations
Online PR is a form of Digital Marketing. It has its similarities with traditional PR and share the same objectives. Storytelling is at the heart of both - traditional and online PR. The only difference between the two is that online PR harnesses social media to improve digital marketing and increase search engine rankings. It focuses on activities tailored towards influencing media, communities and audiences that exist solely on the Internet using online channels. This includes search engines, blogs, forums, discussion threads, news, social networks and other online communication tools. Brand reputation monitoring and management is also a focus area for online PR.
This is How We Help You with Online PR:
We apply online PR tactics to place your brand story in front of the right audience, using the right medium, at the right time
With a proactive and integrated approach, we help you in your "Brand Reputation Management" by assisting you in building authority, trust and credibility in your respective industry
We integrate online PR with content marketing, SEO, social media and other marketing efforts, in order to achieve maximum ROI
Help you stay 'top of mind' with existing customers
Increase your brand's search engine and media visibility helping to attract and engage new prospects
Increase website traffic and referral opportunities/relationships, hence, increasing the conversion rate
Our Online PR Services are tailored as per your exact need and include:

Research of Competitive landscape
Audience research
Media outreach and relations
Online Press release writing and distribution
Case studies, whitepapers and other content items
Development of collateral materials
Crisis management
Editorial support to provide direction, quality assurance and brand voice consistency
Get a Quote
---
Key Steps for an Effective Online PR Campaign
Define Your Brand:
Analyze what your brand stands for and what sets you apart from others. What are the solutions that you offer? All the efforts should be to streamline your brand (Business name, tagline, Logo, mission statement, headshot) across all channels.
---
Determine Online PR Objectives
You should be aware of what you want to achieve through online PR. The achievements could be - to disseminate news about your brand, create more conversions from prospects, increase awareness of your services, strengthen your credibility etc. Every step that you take should be a strategic effort, in line with your objectives.
---
Be Aware of Your Niche
You should be aware of how the world of communication is changing. Be aware of the influencers, bloggers, writers, reporters, trend setters etc.in your sector. Connect with all of them.
---
Set Up a LinkedIn Profile
During the first quarter of 2015, LinkedIn had 364 million members. Create a profile on LinkedIn as it will not only help you to stay informed about your industry but also help you to connect to new people and find knowledge you need to achieve your goals. It helps you to stay informed about your professional contacts in your industry.
---
Publish a Press Release Online
Create a newsworthy story which is accurate and appeals to a broad audience. It can include:
New product/service offerings
Grand openings/business expansions
New hires/promotions
Community and charity involvement
Awards and special recognition
New customer/partnership deals
Milestone achievements
Timely expert advice
Industry developments
Customer successes
Unique human interest stories
Make sure that you follow the below for your online press release:
It should contain rich content - Videos, Photos, and Links etc.
You copy the information into the body of your email instead of an attachment because news desks get hundreds of emails daily and clicking to open an attachment may sometimes take too long.
Make it ready for social sharing – hyperlinks, social media links, blog links, video embedded, photos and caption in file info and in the body of the email
Have a spokesperson ready and available
---
Integrate Your Efforts for Online Reach:
Create your online visibility by influencing the following:
Columnists & traditional writers
Bloggers: personal & professional
Websites
Social media users: LinkedIn, Twitter, Facebook, Google Plus, Pinterest etc.
Awards, events and exhibitions
Directories, lists and organizations
Web searchers
Connect with media through platforms like LinkedIn to share your news. Spread news through your Groups. Everyone has their own way of approaching PR.
Aside from traditional PR channels, these online channels may be of great use to marketers:
Industry websites
Blogs - personal and professional
Forums: Topic-focused, industry-related and niche
Social media
Media-sharing sites and networks like YouTube, Instagram and Flickr
Wikis
Twitter feeds
Google Plus: events, hangouts and other groups
Linkedin: news and groups
Press Release Distribution Options
Vocus
PRNewswire
Business Wire
Marketwire
Cision
PRWeb
VMS
---
Measure Success and ROI
Analyze the impact and success of your PR campaign by analyzing metrics for:
Actual media coverage
Conversion rate
Figures on traffic - word of mouth, viewers etc.
Awareness amongst stakeholders
Office traffic - calls/emails
Brand Awareness
Continue to improve by enhancing work on pain points.
---
Reputation Management
Reputation management is all about monitoring and assessing your reputation in the marketplace. It also means acknowledging and responding to situations before they run out of control. The platforms can include blogs, forums, discussion threads and social networking sites. You should always allocate a proportion of resources for reputation management as your brand is your identity. It takes years to create a brand and few mins to ruin it.
It's imperative to monitor how and what consumers talk about your brand as this analysis provides you early warning signs for product or service issues. It also opens the windows to promotion opportunities that can be leveraged.