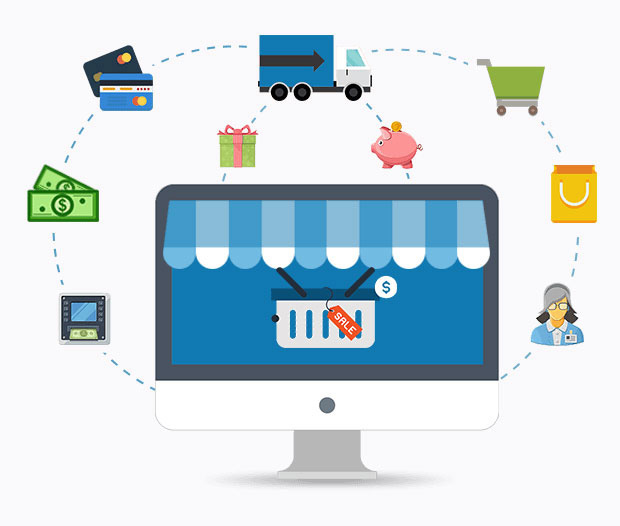 E-commerce Solutions
With a significant increase in the use of smartphones and tablets, more and more consumers have moved towards online shopping. Hence, every business owner is considering to have an online store where they can sell their range of products and services. e-commerce delivers a comprehensive range of benefits to retailers and merchants. As a result, more and more businesses are moving to e-store from brick and mortar stores.
e-commerce has revolutionized the way companies are doing business. Now, consumers can purchase almost everything online 24*7 from comfort of their home and get huge discounts as well.
We are experts in all the e-commerce platforms - Magento, Shopify, Woo-commerce, Prestashop, Virtuemart, Ubercart and many more. Whether you want to customize your existing e-commerce platform or create a new customized platform from scratch, we can help you with the same.
This is What We Help You with:
Customize your current e-commerce platform as per your need
Develop a new e-commerce platform from scratch tailored to your requirements
Create new extensions/plugins enhancing and adding more functionality to your current system
e-commerce website your most effective selling tool. Our e-commerce design process helps increase conversion rates
Integrate external applications with your CMS incrementing its use
Global retail e-commerce sales volume from 2013 to 2018 (in billion U.S. dollars)
This statistic gives information on the global e-retail sales volume from 2013 to 2018. In 2014, worldwide B2C e-commerce sales amounted to 839.8 billion U.S. dollars and with projections of 1.5 trillion U.S. dollars in sales in 2018.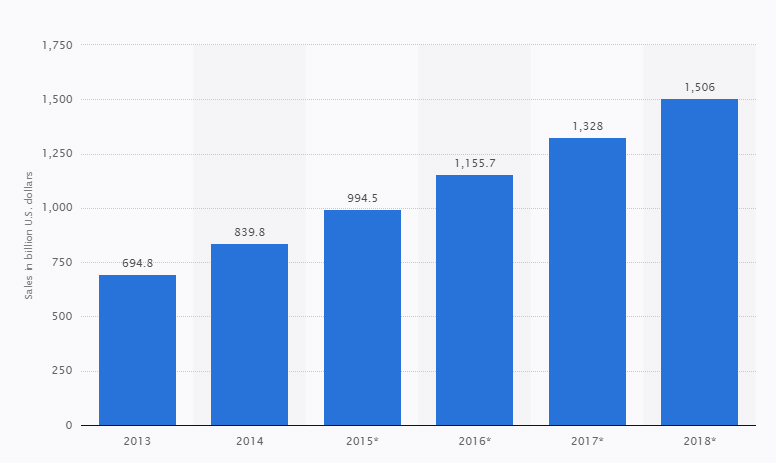 In recent years, the multichannel concept has transformed into omni-channel. Omni-channel refers to the practice that leads to a consistent shopping experience across channels and this includes brand messaging, promotions, pricing, customer service, etc. According to Google, 85% of online shoppers start a purchase on one device and finish on another.
Get a Quote
---
Benefits of e-commerce
Comfort and Uncomplicated Accessibility
The consumers can not only see but compare all the products available in the online store. It's convenient to browse through different categories of products, read reviews about them, compare prices, read their description and purchase them through various easy payment options like COD, debit/credit cards, internet banking etc.
---
Reduces the Cost of Inventory Management
For suppliers, automation of inventory management using web-based management system decreases the cost of managing the inventory of goods. Indirectly, operational costs are saved.
---
Engage Consumers
You can keep a track of consumers buying habits and accordingly provide them tailored offers which further help in managing a good long-lasting relationship with the customer.
---
Easy Set-Up
Set-up and management cost is greatly reduced compared to brick and mortar business wherein you need to set up offices and stores at different locations to expand your business. Moreover, very few licenses and permits are required to start-up an online business than a physical store.
---
Benefits Consumers, Online and Offline Vendors
Consumers get the benefit of choosing between different brands 24*7*365 with the ease of sitting at home. For offline vendors who do not have their own eCommerce site, they can showcase their products on your eCommerce portal. You benefit from such offline vendors through various ways of monetization business model and also not worry about keeping all those goods in your own warehouse.
---
Easy Outreach to Consumers All Across the World
You are no more limited to only your geographical location. Through an e-commerce website, you can sell your products and services all across the world.
---
Stay Open 24*7*365
Consumers can purchase your products 24*7*365. This not only helps you boost your sales but it is beneficial for consumers as well as they can shop anytime in the day or night.
---
Increase Brand Awareness
e-commerce sites help to reach out to more customers. It also helps to create brand awareness by allowing customers to share the products via social media etc. thus enhancing the customer base.
---
Ease of Evaluating Analytical Data
It's easy to analyze and evaluate statistical data related to sales effectiveness, customer satisfaction, upcoming trends, marketing campaigns and more.