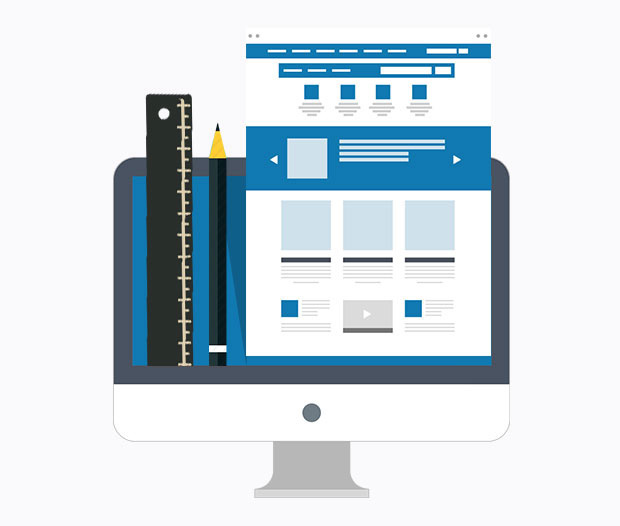 Website Design
An effective and comprehensive website which is complete in all aspects not only looks aesthetically pleasing but also can be a deciding factor to make or break a business. Your website is an interface of your company to the outside world. Designing a website involves a whole collection of different skills - from copywriting and typography to layout and art - all fused together to create an interface that not only exudes the right emotion and feeling but also communicates function and facilitates easy access to its content. Web design needs all of these elements to be in tune with the goals of your website and in sync with the organizational objectives behind the website. Hence, you need to design it strategically to merge your organization's goals with every aspect of your design process.
Here is What We Help You with:
Design effective website layout with excellent UI/UX to increase conversions
Create stunning design along with proper call-to-action to convert prospects to clients
Design effective user pathways to engage the visitors
Develop effective landing pages to direct or serve usable content for the visitors
Get a Quote
---
Our Process for Website Design
Client Interaction
We interact with you to understand your vision and requirements for your site. We try to gauge understanding about your target audience, goals, creative direction and other variables such as budget and deadline.
---
Gathering Requirements
We collect a SRS (Software Requirements Specification) or PRD (Product Requirements Document) from you which underlines all the requirements for your site. In case you are unable to prepare a doc yourself, we create it after discussing the same with you and send it over for you to review it for any edit/addition/deletion that may be needed.
---
Decide on Technical Requirements
After the specifications are finalized, we make a decision on the platform (custom-built, basic HTML, CMS etc.) for your site keeping in mind the scalability, modularity and ease of use.
---
Timeline and Budget Finalization
After going through your SRS, we provide the timeline and price quote (fixed or hourly as agreed upon) for your approval. We create and present a high-level outline of your website on paper in accordance with your SRS. The outline consists of all the technical and functional details of all the sections and pages to be included on the site, features that would go on the site (such as user accounts, blogs, social media integration, audio/video, animation, newsletter sign-up etc.), description of what type of content will be shown on each page etc. This outline basically provides a high-level breakdown of modules along with the time needed to complete each module so that you are aware of the breakdown for timeline and price quote.
---
Brainstorming
Once the price quote is finalized and we have collected all the required information, we start with our brainstorming process to collect ideas about the design on the basis of your requirements. You might need a standard web interface or might want to present your concept in a unique way. In the end, content drives the design structure. E.g. A NEWS site will have a different approach than a photographer's web portfolio.
---
Create a Detailed Synopsis
In accordance with the outline submitted to you, we create a detailed synopsis of the design, technical specifications and features to be included, before starting the project.
---
Create Wireframes or Mockups
As per your preference, we create wireframes or mockups for initial design. We generally prefer creating the mockups directly rather than wireframes as it gives the client a complete feel of the design and saves time for project completion. Mockups are created keeping the UX in mind. We provide 3-5 homepage mockups for your review. We make the changes as per your taste until you finalize a mockup. Once the homepage design is finalized, we create a couple of mockups of internal pages for you to review.
---
Build Web Pages
After the homepage and internal page designs are finalized, we proceed with turning the designs into actual web pages written in HTML and CSS.
---
Develop the Website
We integrate all the pages within the system you have chosen in order to build a functioning website. We make sure that the pages are responsive on every device available in the market.
---
Testing and Demo
Once the development is complete, we host the site on our demo server and test the complete flow and functionality again. We provide you access to our demo server to review the site. Any modifications needed are accomplished and tested again.
---
Make the Site Live
Once you are satisfied with the site, we make it live by hosting it on your servers.