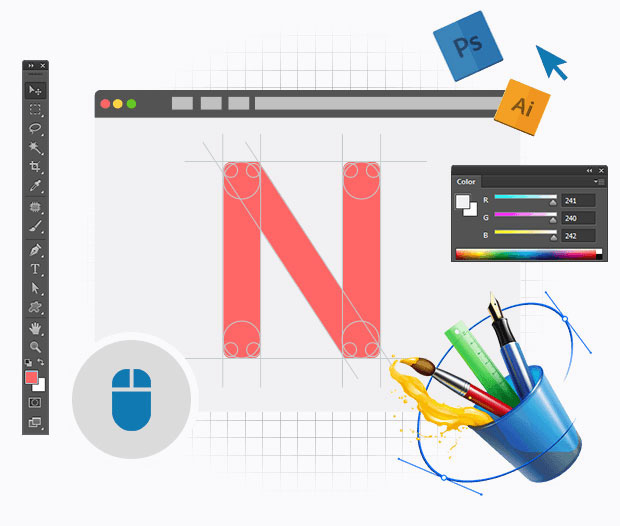 Logo Design & Branding
Your business Logo is a vital ingredient for your business as it not only creates first impression of your brand but also attracts new clients and makes you stand out from your competition. A visually appealing and unique logo strikes well with the audience and helps create a brand that they can remember. Make sure yours is designed for success.
This is What We Help You with:
Create visually stunning logo that represents your values, persuading customers to do business with you
Create logos that represent your vision and commitment
Create a well-designed logo that showcases a degree of professionalism and competence, thus, help steer potential new clients
Use colors depending upon your service vertical
Create logo which not only makes you stand out from competition but also be easily remembered by customers, thus helping you in branding
Get a Quote
---
This is What Our Design Process Looks Like
Understanding Your Business Vision and Values
We talk to you to understand your vision for your brand. For instance,
What are you trying to accomplish with your brand?
What are the values that you represent?
What kind of audience are you planning to cater?
---
Understand Your Vision for the Logo
We like listening to you about what you think an ideal logo for your brand should look like. We ask for the colors that you plan to use in your site and logo. After gathering all the information, we provide you with our inputs and create a detailed report of the likes and dislikes, do's and don'ts. We also provide you information explaining what's new in the industry and what kind of designs are your competitors creating to enhance their brand image through logos.
---
Sketching
We start with sketching illustrations by hand, keeping in mind your vision for your brand. These sketches work as creative inspiration behind the logo designs that are created for your brand.
---
Internal Analysis
Keeping the sketches as reference, we create the first set of designs. We create different designs in different colors. We also create various iterations of the same logo using different color schemes. Our designers then show these designs to other staff members making sure that the logos created meet the highest standards while narrowing down the designs to only the ones that best represent your brand's culture and values.
---
Client Presentation (Phase 1)
We present the top 3 to 5 logo designs to you to decide upon any edits that you may want to see in any of them.
---
Client Presentation (Phase 2)
After receiving your feedback for the first set of logos, we go back to the drawing board and create a second set of designs that have been tweaked and altered as per the feedback given by you at the first presentation. We then present the second set of designs for your reference.
---
Final Logo
After you decide upon the final logo, we enhance its overall look and make sure that it serves as a perfect representation of your brand.