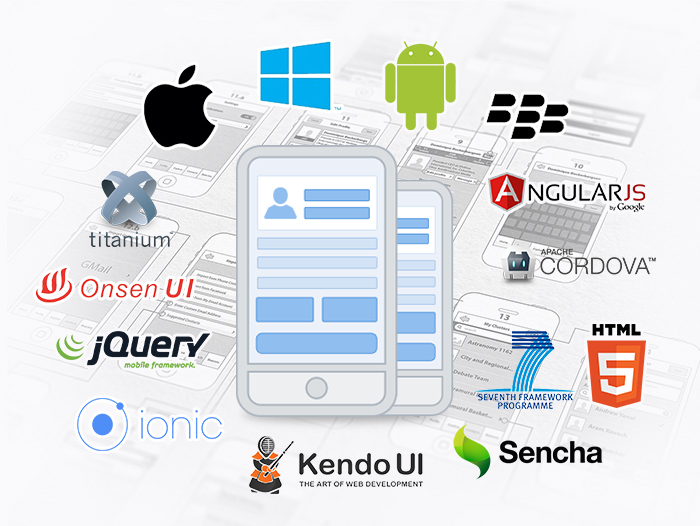 Mobile Application Development
We can make both "Hybrid" and "Native" apps for you. Both approaches have their own advantages. Hybrid apps are more cost efficient and have a shorter development cycle while native apps typically perform more smoothly and quickly.
We have a dedicated and talented team of designers and developers with immense creative skill and technical knowledge to develop an app for you which not only solves the purpose for what it was developed but also is innovative, elegant, responsive and scalable.
We inculcate your passion and vision with our expertise to deliver you the apps which connect with your customers and create mobile magic.
We know how to do intricate stuff and complete building an app within time and budget.
We keep ourselves up-to-date with the latest mobile strategies and innovations thus helping you leverage our vast experience in making apps. To stand out in such a huge market, app's design, responsiveness, flow, scalability and its network usage plays a very vital role in its usability. We take care of all this for you.
We Promise the Following
Interactive app design which includes mobile application flow and screen transition etc
Validation of design before starting development
Comprehensive screen layout
Agile software development methodology for mobile app development process
Collaborative approach
Transparency & concurrent testing involving the QA from the very inception of the application
Get a Quote
---
Benefits of Having a Mobile App for Your Business
Act as Direct Marketing Route
Apps serve many functions but the biggest benefit of an app is that it helps you directly interact with your customers and create a bond with them through push-notifications. Through a website, customers need to reach out to you but through an app, you can reach out to customers. All the information you'd like to provide to your customers (including special sales and promotions) is right at their fingertips. Push notifications help you to easily remind customers about your products and services whenever needed. An excellent mobile app also leads WoM (Word of Mouth) marketing which is much more effective than any other marketing technique.
---
Helps Provide Value to Your Customers
Instead of having a loyalty program in the form of point-collection loyalty card, you can digitize it by making it possible for your customers to collect their rewards via your mobile app. As a result, you will see more downloads and more returning customers leading to more conversions and hence more ROI. (Check out PunchMe, a service that lets you create smartphone-based loyalty programs.)
---
Helps in Branding
An immaculately designed mobile app with an excellent UI/UX elements and relevant content can contribute greatly to awareness about your brand. Remember the 'effective frequency' formula in advertising. It is 'the number of times a person must be exposed to an advertising message before a response is made and before exposure is considered wasteful.' As a rule of thumb, hearing and/or seeing your brand approximately 20 times is what will get you truly noticed. So, the more often you can get customers involved with your app, the sooner they will be inclined to buy your product and/or service.
---
Seamless Accessibility
Mobile apps help in improving customer engagement. Features like one click calling, clearly visible contact numbers, chat etc. help in improving the customer service and business accessibility.
---
Stand Out in the Market
Small businesses possessing a mobile app are still rare. You can benefit from this my developing your business app and stay ahead of competition in the market. This will definitely help in more customer outreach.
---
Creates Personal Connection
Due to immense advertising surrounding us like billboards, flashing signs, roadside banners, newspaper ads, flyers, websites, Facebook Ads, email marketing etc., we might lose the impact on customers because it becomes very monotonous for them due to all this same kind of advertising out there. Mobile app helps us to build a connection with our customers and prospects as you are just a 'fingertip' away from them at all times.
---
Continuous Visibility
As more and more customers have become mobile-dependant for variety of tasks, they use numerous apps as per their need and download many for trial purposes as well. In either case, each person has to unlock, scroll, and scan their device for the apps they're looking for. Being "in the way" among all with an immaculately designed app icon cannot go un-noticed. Our mind unconsciously documents every image and text. Your presence in the mobile, definitely helps to remain visible on daily basis.