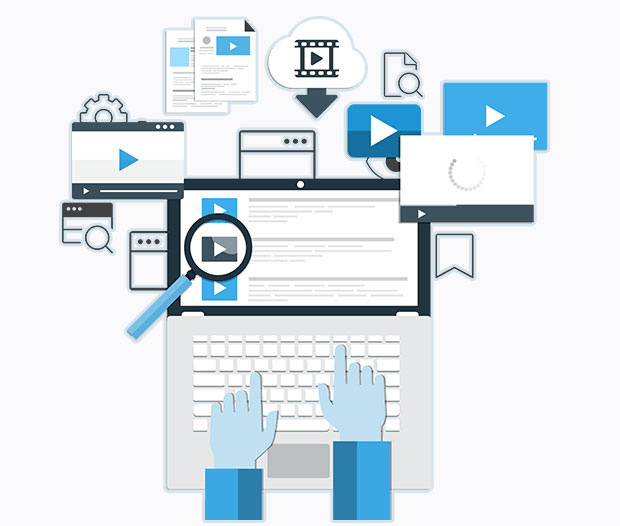 Video Production
Statistics from various leading channels:
As per Forbes Business predictions for 2015, online video will continue to take center field.
By 2017, video will account for 69% of all consumer internet traffic, according to Cisco. Video-on-demand traffic alone will have almost trebled.
Nielsen claims 64% of marketers expect video to dominate their strategies in the near future.
As per youtube statistics on their site, YouTube receives more than one billion unique visitors every month – that's more than any other channel, apart from Facebook.
If a picture paints 1,000 words then one minute of video is worth 1.8 million, so say Forrester's researchers.
The above statistics clearly present the 'video' as the future of content marketing. It has become indispensable for every business - small or big, which wants to grow its customer base. When it comes to potential reach, video is peerless.
In an age of information overload, where 'time is money', it's vital for small businesses to offer content that is easy to comprehend; if not, consumers will simply move on. Video does this very well. If a picture paints 1,000 words then one minute of video is worth 1.8 million, so say Forrester's researchers. Axonn Research found seven in 10 people view brands in a more positive light after watching interesting video content from them.
The whole idea is to present the relevant content is a manner which engages viewer and makes it easy for him/her to share the same with others which helps to promote your product/service across multiple channels. A good video presenting your products/services makes the viewer spend more time on your website interacting with your brand. Hence, it helps to convert more prospects into clients. For any social media campaign, any SEO exercise, video is without doubt one of the best tools in the kit.
Always consider the audience you are trying to reach and ensure the video is relevant to them. If it's not the most appropriate means of getting your message across, you are probably wasting your time.
This is What We Help You with:
Production and post-production video services using latest tools and technology ranging from broadcast productions, corporate/training videos, event videos, explainer videos, marketing videos, animation(2D & 3D), motion graphics, walkthroughs, music videos, film and title sequences to name a few
Increase customer engagement with unparalleled static, interactive and motion-based visual content
Develop your brand identity that your customers can connect with
Create marketing videos that provide profound insight of your products/services
Professional 2D and 3D illustration for storyboards and animatics
Video editing services to put your story into a visual masterpiece that produces results
Video color correction services that places special attention on consistency and balance. Whether it's damaged footage, excessive exposure problems, facial enhancements or enhancement in tone, our expert colourists work with our VFX/Compositing and editing teams to breathe fresh life into your message
VFX and Compositing services that capture the viewer's attention with stunning visual effects
Get a Quote
---
These are the Services that We Offer
Corporate Video
Our corporate video production services cover a wide range of purposes - corporate communication, training and education.
---
Event Video
We edit your raw event videos and make it ready for marketing purposes.
---
Explainer Video
We create both - Whiteboard and Cartoon explainer videos, to explain your product/service to your target audience in an efficient and smooth manner.
---
Marketing Video
We create engaging marketing videos to promote your products/services to your target audience.
---
Real Estate Video Production
We edit the footage provided by you into short videos and include graphics, titles, animations, and voice over to make it more customer engaging.
---
Video Production for Distance Education
We help to create scripts, organize content, edit raw video footage and incorporate motion video with sound, computer animations, stills etc as per requirement to make it usable for online education.
---
Training Video
Our training videos help organizations to on-board new employees by imparting e-learning about the products and services.
---
Interactive Videos & Rich Media Banners
Our interactive videos and banners help in engaging users through their interactive functionality. Some interactive functionality includes:
Automatic Play
Expandable
Screen Takeover
Interactive Hovers