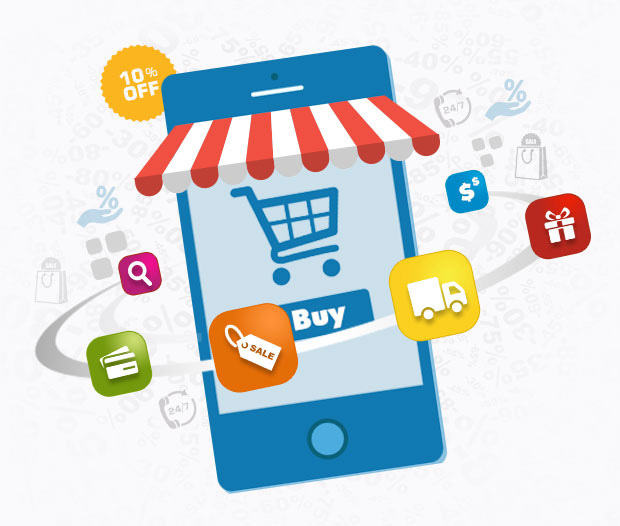 m-Commerce
Mobility has changed how businesses work forever. To have a mobile presence is no more a luxury but a necessity. From the e-commerce perspective, with the ever increasing market of mobiles, tablets and wearables, we have more and more people shopping from their phones and tablets. mCommerce delivers e-commerce capabilities directly into the consumer's hand anytime and anywhere. It can be described as 'a retail outlet in customer's pocket'. Mobile devices have completely changed the path to purchase. Shoppers are using their mobile devices, both at the beginning of their purchase funnel, and for research, and even while consumers are inside of a bricks-and-mortar store.
The statistic shows the total number of mobile phone users worldwide from 2013 to 2019.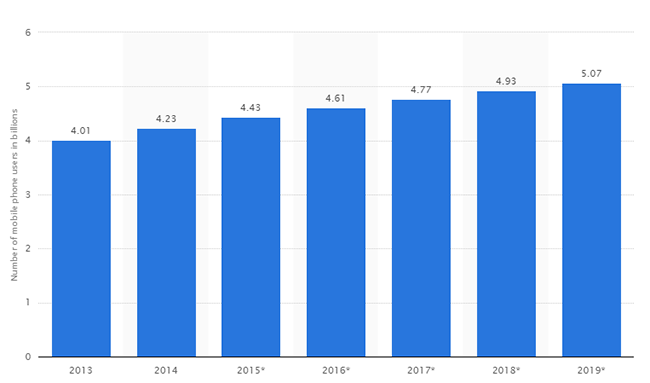 The statistic shows the mobile phone user penetration as share of the population worldwide from 2013 to 2019.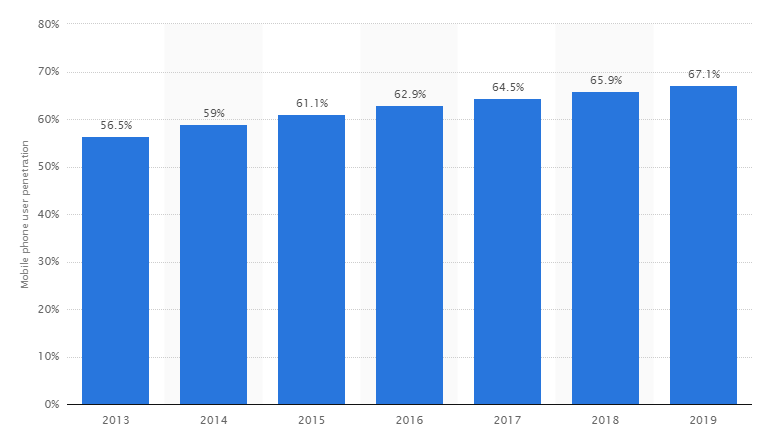 The statistic depicts the number of tablet users worldwide from 2013 to 2019.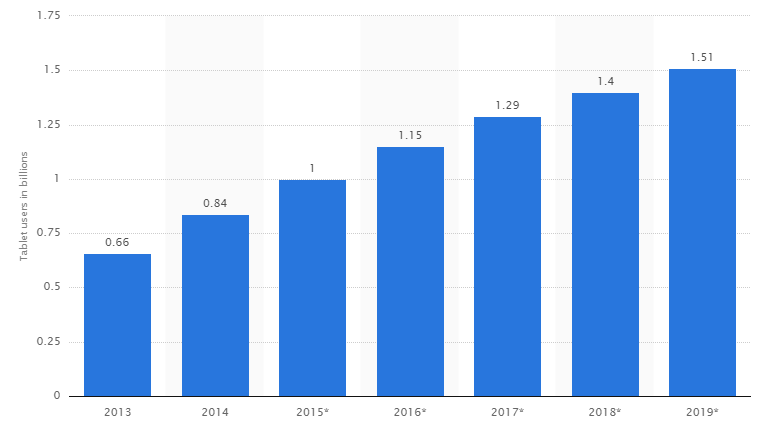 Here are a few Statistics for Your Reference:
As per Forbes, more than 80 percent of customers now prefer mobile apps over traditional mobile websites.
According to a new report from Forrester, mobile commerce transactions are expected to top $115 billion in 2015 and climb to $142 billion next year.
As per Sucharita Mulpuru, vice president and principal analyst at Forrester Research, mobile phones will generate 15 percent of ecommerce sales by 2020 and tablets will generate 33 percent of ecommerce sales in the same time frame.
Forrester projected a compound annual growth rate of 17 percent across smartphones and tablets in the next five years.

While mobile currently accounts for 35 percent of overall ecommerce, its forecasted growth means it will account for 49 percent of ecommerce, or $252 billion in sales, by 2020.
According to Cisco, by 2019 mobile traffic will be ten times what it was in 2014. There is also a parallel trend in app usage which grew 76% in 2014 where shopping apps led the way.
Forrester projects a compound annual growth rate of 17 percent across smartphones and tablets in the next five years. Mobile currently accounts for 35 percent of overall ecommerce, its forecasted growth means that it will account for 49 percent of ecommerce, or $252 billion in sales, by 2020.

According to a consumer survey fielded in the second quarter of 2015, 60 percent consumers shop on their smartphones, up from 52 percent in 2014, while 71 percent of tablet owners are now shopping on their device, up from the 47 percent.
For greater outreach, your e-commerce site should not only be responsive but you should also have a mobile application for your e-commerce to reap other benefits through mobile. RWD Responsive web design (RWD) helps you to create compelling customer experience across devices and thus helps to increase customer engagement and sales leading to increase in ROI. A well designed mobile app provides you the same along with some additional benefits. The most successful mCommerce sites have strong user experiences that integrate elements such as browsability, buyability and web site design.
This is What We Help You with:
Make your existing e-commerce site responsive for all screen sizes available
Create a native or hybrid mobile application (IOS, Android, Windows, Blackberry) for your e-commerce business
Customize your existing responsive e-commerce site for design with specific elements enhancing the UI and UX so that the desktop and mobile/tablet view is entirely different
Get a Quote
---
Benefits of mCommerce
Push Notifications
Push notifications can be sent on your mobile without the app being open. These push notifications can be about festive discounts, clearance sales, discounts when purchasing on app, discounts in nearest stores etc. Information about changes in order, shipping status of purchased items can also be sent using the app. Notifications are a great way of bridging the gap between business and its potential customers as the mobile device is carried along almost wherever a person goes. Push notifications help in greatly improving the conversion rate of a business by targeting the potential customers precisely.
---
Accessibility
mCommerce provides complete accessibility of the business to the consumer through unified experience in customer engagement in terms of accessing the information quickly, get instant support for queries, offer searching convenience and much more. Features like live chat assistance, detailed description of products and pricing, demo videos, discount information, out of stock notification, wishlist, ratings, service details and everything else customers find handy while shopping, can be integrated into a mCommerce application for access at their finger-tips. Mobile acts as a conduit between bricks-and-mortar and desktop interactions, arming consumers with information and the opportunity to purchase at every step.
---
Seamless and Easy Contact
Features like one click calling, clearly visible contact numbers, chat etc. help in improving the customer service and business accessibility.
---
Location Based Notifications
Location based notifications can be sent via an app as it can use and interact with smartphone's GPS to monitor location of customers and guide them to the nearest store. The location based notifications provide impetus to local businesses to offer personalized discounts targeting their customers and help in sustaining customer loyalty. Location tracking can help customers through navigating directions to find the store and transportation service.
---
Ease of Payment
Customers can pay through their mobile in various ways. They can either choose COD (Cash on Delivery) method, in-app payment method (Google wallet for android and Apple pay for Apple), mobile wallet or pay through credit/debit card, paypal and internet banking. Easy checkout system helps in enhancing customer experience.
"According to statista.com's predictions, global mobile payment figure, which was 325.2 billion US Dollars in 2014 will reach 430 billion mark in 2015 even reach a higher value of 560 billion in 2016."
This figure clearly reflects the rate at which customers are performing purchases through their mobiles, and hence the urgency for mobile e-commerce is on a high.
---
Omni-Channel Experience
Omni-channel refers to the practice that leads to a consistent shopping experience across channels and this includes brand messaging, promotions, pricing, customer service, etc. According to Google, 85% of online shoppers start a purchase on one device and finish on another. Forrester suggests facilitating multiscreen shopping as large number of shoppers are currently researching on mobile and completing a purchase on desktop. This is where responsive design comes into picture.
---
Sharing
Through mobile apps, customers can share the products for suggestions/opinions from friends before purchasing them. E.g. Flipkart has a feature called 'Ping' which allows the customers to share their pages and allow to drag and drop products to the share asking for friends opinions.