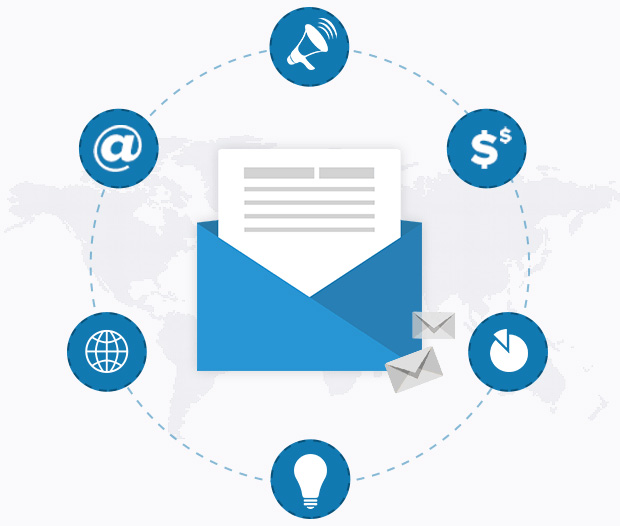 Email Marketing
Email continues to dominate the digital outbound communication platform with the greatest reach and the best ROI. There are a number of steps involved in carrying out a successful email marketing campaign. First, you need to entice people to join your list. Next, you need to get people to actually open your emails; this is arguably the most important step in the process. Finally, you need to entice people to perform an action like click a link – whether that's to a blog post, social media account or landing page.
Here is What We Help You with:
Create compelling subject lines and content to incite higher open rates
Develop strategy to send emails on specifc days and time to ensure high open rates, thus leading to high click through rate
Develop effective design with clear 'call to action' to increase click through rates
Build effective landing pages to persuade users to perform action and increase overall conversion rates
Track stats to determine the effectiveness of an entire campaign
Get a Quote
---
Key Elements of an Effective Email Campaign
Set a Clear Goal
The first step towards a successful email marketing campaign is to define a goal or intent. It's important to keep that goal in mind throughout the campaign so that you do not stray.
---
Segment Your Audience
Your email campaign should be targeted to your audience needs. List segmentation is the key to ensure that the message is delivered to the right target audience.
Segmenting your email lists help to increase 'open rate' of your mail and hence, share the relevant content with the user. Some common ways to segment your email list are:
Geographic location
Email engagement
Past purchases
Site usage
Form abandonment
Age
Gender
---
Create Compelling Content
The aim is to engage the audience and make them perform an action relevant to your business. Hence, make sure that your mail has the following:
Valuable content: Make sure that the content of your email is customized with information that is directly related to reader's preferences.
A compelling pre-header: Keep it short and enticing so that your viewers want to keep reading.
A catchy header: Make sure that your header is in text format so that you don't have to worry about image visibility.
A clear call to action: Make sure it is created in HTML format
Relevance to audience
Avoid jargon. Clear and Concise is the best way
There should be a link to opt-out of future emails if you content is not as per their taste.
---
Get Your Timing Right
Depending upon your industry and customers, timing of sending an email is a very crucial deciding factor. For instance, it has been observed that email 'open rate' is maximum between the days Tuesday to Friday from time 9am to 1pm. The best way to understand what works for your business is to run tests.
---
Brand Optimization
Your mail should clearly state who it is from:
Use your brand name in the 'from' field.
The email address should be from your registered domain
Display your logo clearly
Add a phone number by text or link so that the readers can simply click to call you.
Use your brand colors
---
Test Deliverability and Compatibility
Design your email in a way that is gets the message across effectively in a clear and concise manner and encourage users to take action. Even the best email won't be effective if it never reaches your audience. Test the deliverability of your mails in three key areas to give your email the best chance of being read:
Compatibility: Make sure that your email displays correctly on all devices including desktop, mobile and tablet platforms.
Format: Your email should have both HTML and TEXT formats to ensure readability in all email clients and platforms. Remember that most mail clients do not display images by default (for security reasons) and instead present the ALT text. Optimize your ALT text on each image to best communicate the message of your mail.
Spam Analysis: Run your email through a spam analysis tool to ensure that it doesn't end up in a spam filter.
---
Create a Clear Call to Action
A well-crafted marketing email is of no use if it doesn't have a strong call to action. Your call to action should aim to fulfil the overall marketing goal of email campaign i.e. convert visitor into a customer. The "conversion" can come in the form of a sale, an appointment or an information request.
Here are few tips to ensure that users take action after opening your mail:
Your call to action should be clearly visible. i.e. the reader shouldn't have to scroll to reach it.
User pathway to call to action should be clear.
Highlighting your call to action and using contrasting colors are effective in drawing user's attention.
Create a sense of urgency - invoke a time limit to encourage users to take action.
Make it persuasive. Use action words to tell the readers what you want them to do.
Don't clutter your email with too much information. Highlight your conversion point.
---
Build an Effective Landing Page
Your email campaign will only be effective if you are able to push the users onto your site but for that you need an efficient landing page. It should be free from distraction, reflect customer intent and persuade him to carry out further actions.
---
Track Your Stats
Tracking produces actionable metrics that can be used to determine the effectiveness of an entire campaign. To analyze the real success of your email campaign, you not only need to track the stats around open rates, click through rates and bounce rates but also track 'actual conversions' on your site. This can be done by tagging links within your mails so that they can be monitored by your analytics software. This will help you to calculate ROI of your email campaigns.
---
Perform Testing and Refine Your Campaign
Split testing is one of the effective ways to figure out what works and what doesn't work with your audience. You will gradually learn to perfect your email campaigns with growing knowledge from each campaign.
NOTE:
Split testing can have multiple goals like open rates, CTRs, conversion rates, revenue. You can split test almost everything on your email like sender details, email subject lines, design and layout, call to actions, headlines and copy, fonts and color, marketing push (hard sell or soft sell), use of images and videos, day of week tests, time of days tests etc.